News
Registration and Information Sessions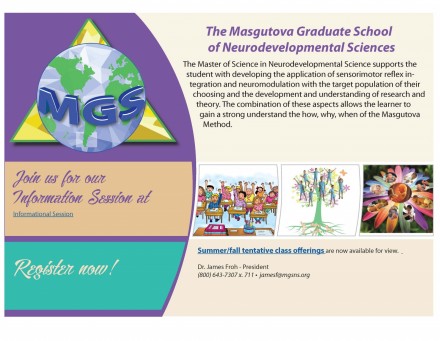 Summer and Fall calendars are officially available and registration is open for current students today, March 22nd. New student registration begins March 29th.
We have a ton of Free Information Sessions scheduled! Find the one that works best for you and register to learn more about the exciting and innovative educational opportunity offered at the Masgutova Graduate School of Neurodevelopmental Science. Sign up today!
THE MASGUTOVA
GRADUATE SCHOOL
OF NEURODEVELOPMENTAL SCIENCES
About MGSNS
Our purpose is to offer a master's program focused on innovative knowledge and research of sensorimotor reflex integration, neuromodulation, and neurodevelopment for improvement of physical, social, cognitive, and emotional well-being.
© 2022 Masgutova Graduate School • All rights reserved • Printed on 6/24/22